As I mentioned before, I started a dotcom with very little working cash, but I had credit cards. Isn't that the American dream in action?
I had to figure out ways to sell my on-hand plus-size clothing inventory. My main channel was eBay, but I needed other methods to sell more.
I got my (Inbound Marketing Certification | HubSpot Academy focusing on SEO optimization. It's free.
I took free Hootsuite classes to learn social skills. They replaced it with paid training and certifications. I've referenced Social Media Examiner when I know what problem I'm trying to solve. It's comprehensive.
I closed up shop due to product sourcing issues, as I wasn't making enough to quit my day job. Every trip to NYC would need three business days off. The breakdown of an 8-10 hour flight on Sunday, one (1) day to see all the goods. Take the evening to research the products I was planning to purchase's competition, the next day to place the orders at the suppliers then fly back home. Management discouraged taking time off. I was close to using my full PTO allotment. I didn't have the stomach for it, because I needed my job. Looking back, I wished I would have pushed the envelope because I had something there. I dropped the digital marketing learnings until…
An animal rescue had an opening to revive a failing conference. Despite having the answers to save more homeless pets' lives, the conference lost money from its start. The programs they developed examined gaps in saving and resolved them through targeted programs. Their results were remarkable. They helped the city save 90% or more homeless pets' lives for many years.
Their results for the conference were not, unfortunately. They were contemplating discontinuing the conference because of the financial losses. Hiring a full-time head was their last-ditch effort to save it. They also had churn for the first full-time hire because if the conference didn't pay for itself and the manager's salary, the manager was out of a job. Working in sales, I was used to risk and figured the skills I would pick up outweighed any downsides because…
I was bored in my current sales role with no prospects of moving up. (My current company had a reorg with managerial losses). I was passed over for a promotion in the last round. My feedback was I was being held to higher standards, so I wasn't optimistic about my prospects long-term.
This new challenge would allow me to learn many skills while saving homeless pets' lives – a cause near and dear to my heart. It was very much a start-up feel, as I was learning and developing documentation and experimenting as I went. I also worked under the Executive Director, so I had minimal face time to discuss the direction and ask for resources (which was lean). She was okay with cheap failure, so I was left to sink or swim…and to innovate, which was what I loved about the role.
Here are the steps I took to turn this conference around (through working with volunteers who were experts in their domain. I was grateful because I would have never been able to afford their hourly rates). :
Rebranded all marketing materials to form a unified, cohesive look like the sponsoring rescues site with the help of my volunteer designer. Together we revamped the website, sponsor materials, leave-behinds, and created brochures. She made sense of my hand drawings and brought her expertise. I wish I remembered her company name because I would recommend her for anything.
Developed a strategy for sourcing sponsors which I outlined in a different article. For website traffic-only sponsors, they wanted to know the number of visitors and impressions.
Learned Google Analytics which is also free. An ad agency granted us their consultancy, which taught me a lot about the entire branding/digital marketing/customer journey. This tool was a game-changer because it showed me where the traffic was coming from. I prioritized more resources (whether time or money) more efficiently. For example, I was directed to focus most of my efforts on social, which provided the most negligible returns based on the data. The top referrers came through typing the URL directly into the browser (name recognition/word of mouth), organic search, and newsletter clicks (past attendees and interested prospects). I used that data to negotiate to get some of the sponsored Google grants for Adwords redirected to the conference.
Built collaborations with other national partner organizations to drive awareness and ticket sales. Partnering helps a bunch.
Sent out a newsletter to drive sales (led by a director of marketing in tech, who taught me many tips and tricks). I was developing a drip campaign for each attendee type to help them through the customer journey when I was reorg'd (despite stellar results. It was all for the best though, really). I still think it's a great idea because people need time and content to make that kind of investment.
Ran contests on social and maintained a presence by scheduling posts through Hootsuite. I had many college students want to take this internship (20+ meetings/trainings) to manage my social, only one followed through. She was a rock star. The results overall were negligible (when she wasn't running it) but still growing slowly, and because I was one person, it wasn't a significant focus area because I had to focus on my best avenues for results….except:
Influencers – I approached a digital marketer who grew his site's Facebook presence to 3 million followers for his ideas on how to promote the conference. He came up with a masterful idea which he volunteered to execute, funded, and got the RoosterTeeth team involved (which was super cool. I felt like such a fangirl.) They helped me sell out my second conference.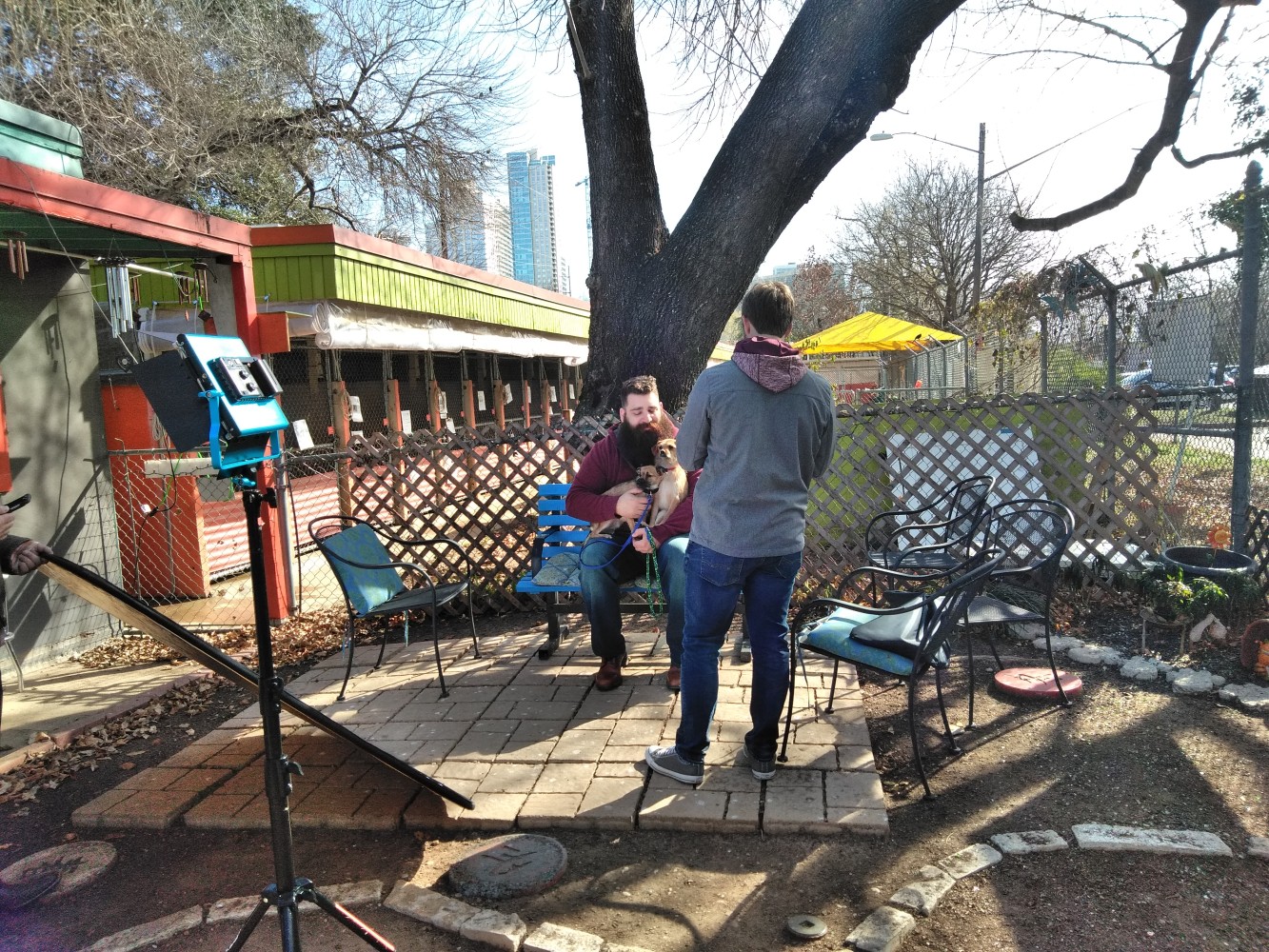 Added event to many local event websites through Googling. I don't have any secret hacks here, unfortunately.
Some word of mouth brought press in (yay for earned media). I had some wonderful volunteers film and edit conference videos for promotion and set up our "Press Room" for the media.
I grew the conference from 175 attendees to 600 (at hotel capacity) making record revenue to expand educational services. Moreover, the rescue now knew it was possible to scale profitably.
I feel fortunate to learn from all my expert volunteers. I'm now brushing up on my skills, taking classes from Greatness Academy, and reading One Million Followers by Brendan Kane. As a paid subscriber of Hootsuite, they provide me with ongoing webinars on how to grow social, too.
There's so much content on how to drive traffic. It takes time to:
Sort through the available information.
Develop a strategy.
Divide it into executable tactics.
Test it to see what works with the ever-changing algorithms.
Revise the tactics and test again.
I hope this helps provide a starting point because it's a lot to learn. Just remember, learn then do. You got this.